Tvåspråkig gudstjänst kl 10 i kyrkan. Uppvaktning av krigargravarna. Sara o Irene Heikius. Trallarna. Kyrktaxi.
to 6.12 kl. 10.00 - to 6.12 kl. 11.15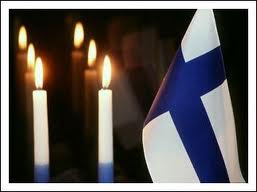 Välsigna och bevara vårt land

Självständighetsdagen infaller den 6 december. På denna nationella festdag har man på statsmaktens uppmaning firat gudstjänster under vårt lands hela självständighetstid. Också kyrkoordningen förutsätter att gudstjänst firas "på självständighetsdagen och i samband med statliga högtidligheter på det sätt som därom stadgas eller för särskilda tillfällen är föreskrivet" (KO 2:2). Vid självständighetsdagens gudstjänster faller betoningen på tacksägelsen för vårt lands frihet och självständighet och på förbönen för land och folk.

Förutom de nedan angivna texterna kan man på självständighetsdagen också använda texter enligt kyrkoårstiden. Predikotexten kan väljas fritt.
Uppvaktning av krigargravarna i kyrkan och kransnedläggning vid monumentet. Sara Heikius cello och Irene Heikius violin. Trallarna. Kyrktaxi.

Liturg: Tornberg Tomi
Kantor: Lax Katri
---